"After nourishment, shelter and companionship, stories are the thing we need most in the world." - Phillip Pullman
Tuesday, December 22, 2009
Post It Note Tuesday: The "Who Have I Offended This Week" Edition.
This is Post It Note Tuesday, brought to you by Supah Mommy, who hell, I've probably offended this week.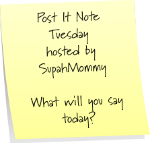 Posted by

Travis Sloat
at 12:03 AM


I'm a husband, father, son, brother, and friend. I teach English and Literature to the youth of today. I love Jesus and my mother, and I'll gladly introduce you to both. I love photography and writing. Duke basketball keeps me occupied for half the year, and hating Chapel Hill keeps me busy the other half. As you can tell from the title of my blog, I like stories. I'm a big guy with a big voice, trying desperately to be heard by someone before The Lord takes me home. Let's be best friends.