Folks, it's TMI Thursday time with the one and only Lilu over at LivitLuvit. She's a peach of a gal that really does her best to get everyone on the internet to do something embarrassing or nasty on Thursdays, and so far, she's done a good job. This is my contribution this week. If you want more of this, please for the love of all that is holy and pure, click the picture of those old people having more fun than you did last night.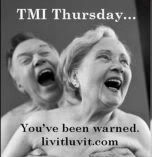 Just click play.
I'll take care of the rest.
And just because I know some of you are TRULY worried, I'll go ahead and tell you. It's SFW. (safe for work)
I know.
There aren't really words to describe it.
And yeah, I tagged it with kittens so it would get more hits.